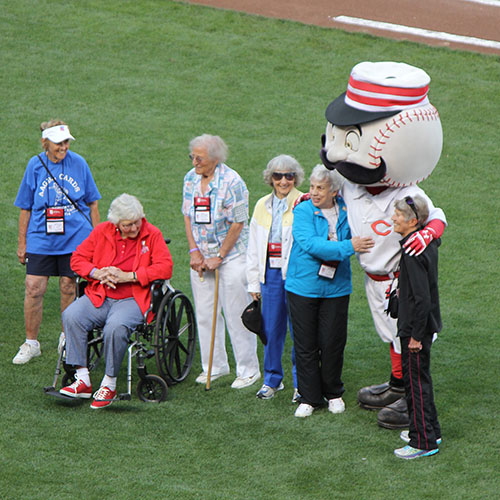 AAGPBL 75th ANNIVERSARY REUNION - SEPT 6-9, 2018: KANSAS CITY, MO
HOTEL RESERVATIONS AVAILABLE SOON (Associate Members only)
ASSOCIATE MEMBERSHIP RATES AND ACTIVITIES COMING SOON
The All-American Girls Professional Baseball League, the first women's pro baseball league in the history of the game, will be celebrating 75 years of memories which began with the inaugural game in South Bend, Indiana in 1943. We hope to see you all in Kansas City, Missouri this September to celebrate this very special event.
Remaining former players, their families, Associate Members, and special guests are invited to enjoy this special event. There will be opportunities for free autographs and events that will be open to the public (Date TBD).
Everyone is invited to share in all the events with these legendary players who were depicted in the celebrated film, "A League of Their Own," by becoming an Associate member of the AAGPBL Players Association. To learn more about becoming a member and the benefits you will receive, click on the "Become a Member" link on the home page.There are special memberships for young adults in school or college for only $15.00 a year.
Be a part of the history of women who played the game and continue to support women athletes all over the world today.
The 75th Anniversary Reunion will be centered in Kansas City, MO at the Westin Hotel. Special reservation fee information for members, registered affiliates, guests and Associates at the Westin will be available along with details of all the planned events and directions, later in 2018. Kansas City is the cultural center of American history and offers many exciting things to do including the Negro League Baseball Museum, Jazz Museum, Steamboat Aria Museum, Nelson-Atkins Museum of Art, and others. There is fun for all at the Union Station and Science City, Kansas City Royals Baseball complex, Professional Soccer Club, Kansas City Symphony, and GREAT FOOD, city-wide, especially BBQ ribs.

The All American Girls Professional Baseball League-Players Association is a 501(C3) nonprofit organization. We encourage anyone who wishes to help support this reunion to donate by clicking on the "DONATE" link on the homepage or donate to our special fund to pay expenses for former players to attend this reunion, contact our treasurer.
For further information on the event, membership, donations or any other questions, "Contact US" link and choose the appropriate subject to contact a qualified representative member. Thank you all. See you in 2018.AAGPBL-PA-Public Relations
---