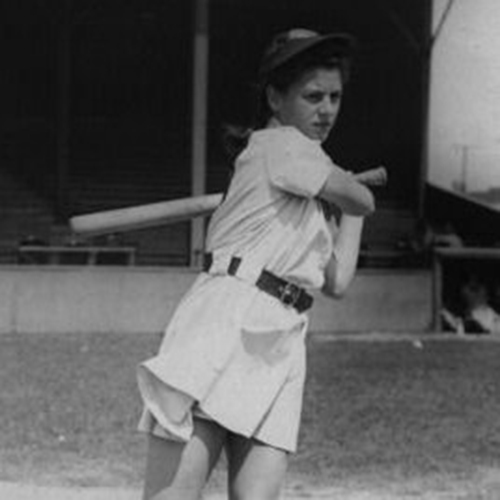 On Saturday May 22, 1993, I attended a speech at Prince George's Community College in Largo, Maryland. The occasion was the spring gathering for the Bob Davis Chapter of the Society for American Baseball Research (SABR). The speaker was Clara (Schillace) Donahoe, a former player in the All-American Girls Professional Baseball League (AAGPBL) from 1943-1954.
There were three central themes of Ms Donahoe's speech. First, she told of her baseball experiences. Second, she imparted wisdom about life in general. Thirdly, she told of her work as a consultant for the film "A League of their Own." As SABR always tries to feature a former ballplayer, Ms Donahoe was the main speaker for the occasion. Other speakers included writers Bruce Adelson and William Mead, and an apprentice umpire who had just returned from his first minor league job. Neither were as lively or as spirited as Ms Donahoe.
Clara Donahoe, now seventy-two years young, saw no need for a podium. Instead, she stood informally among her audience. Throughout the presentation, she maintained a friendly rapport. Ms Donahoe began her talk by introducing herself as one of the first ladies signed by the AAGPBL. She played for the Racine (Wisconsin) Belles. Before the Belles started their short-skirted ball playing, they all had to attend charm school! Ms Donahoe described the event as rather silly and went on to say that the school taught them to wear makeup and comport themselves as ladies. Chaperons, which are largely unknown today, were very much a part of the Belles' off-field behavior. Female ballplayer, unlike their male counterparts, were barred from drinking, gambling, or carousing. Ms Donahoe's center-field play on the diamonds earned her $75 a week. To compensate for a life on the railroads to play ball at various destinations, the Racine Belles played many good-natured pranks to relieve tension.
After her ball-playing days were over, Ms Donahoe taught school. In so doing, she traveled the world; working and living in Germany, Iran, Ethiopia, and Bolivia. One of her students was a young Norman Schwartzkopf. Away from the United States for over twenty years, Ms Donahoe had four children, including three sons. She boasted that she taught her sons the game.
In 1990 Ms Donahoe was contracted by Hollywood to act as a consultant in the motion-picture "A League of their Own." The picture, produced by Penny Marshall, starred Madonna and Geena Davis. When Ms Donahoe first heard that Madonna was going to be in the film, she immediately thought that it would be X-rated. Her main film role? Ms Donahoe was told by Penny Marshall to teach Madonna "everything you know about baseball in a half an hour." Ms Donahoe worked with Madonna for the requisite amount of time, however, the pop idol later would wonder why it was so difficult to throw the ball with the gloved hand. Like Madonna, Geena Davis was also a novice at baseball. All sorts of spheres were tried in an attempt to get Ms Davis' character, a catcher, to actually catch the ball. Davis had a terrible time squatting as well. Neither Madonna nor Davis ever came within a foot of hitting the ball, making filming difficult at best.
Without question, Ms Donahoe delivered her speech to a friendly gathering. SABR meetings always contain captive baseball audiences. However, some topics are not everyone's cup of tea. For example, at that same meeting, one gentleman ranted on about numerous baseball statistical oddities by using piles of charts and graphs. His presentation was lamentable; in fact, much of the crowd did their level best to keep awake.
Ms Donahoe suited her talk much more to life than to baseball. During the entire speech, comprised largely of anecdotal material, the audience was informed and entertained. SABR members, rabid ball fans, found much humor in Ms Donahoe's ball-playing tales. Ms Donahoe communicated her stories with style and grace, often using 1950's colloquialisms such as "gals," and "in those days." In a few instances, she used body language to emphasize ball movements. Her teaching career likely contributed to her speaking ease and expertise. What resulted, for the audience, was a touching, personal, and credible journey into Ms Donahoe's life. If Ms Donahoe's goals were to inform, entertain, and touch her audience, she accomplished these goals and more.
At the conclusion of Ms Donahoe's speech, there were quite a few among the crowd that were teary-eyed. I must admit that I was one of them. Baseball didn't make us that way. But, Ms Donahoe's speech was so touching and human, that the sharing of her experiences made everyone feel better. After all, that's what a dynamic speaker does. To honor her speech, the crowd awarded Ms Donahoe with a time-honored baseball tradition. Applauding warmly, the audience gave this baseball pioneer a standing ovation.
SABR is a six thousand member organization devoted to the research, history and discussion of baseball. The club meats twice each year, in the spring and fall, to listen to speeches, attend games, and share their passion for America's National Pastime.
Note: Author J. Thomas Hetrick is a SABR member and 19th-century baseball historian. He is the author of Misfits! Baseball's Worst Ever Team and Chris Von der Ahe and the St. Louis Browns.
---