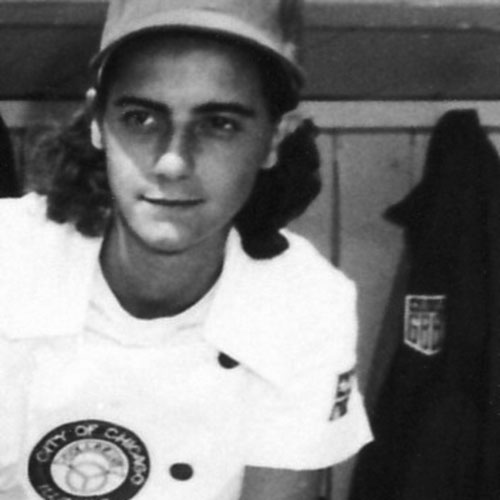 "Luisa Gallago "Cuban Player a Hit in Baseball Heyday"
She caught the ball like Orestes Miñoso (Minnie Minoso) and threw like Silvio García, both Cuban baseball legends. That's what they said of Luisa Gallegos, one of the revered female baseball players of the '40s and '50s who could hit a home run, make a sensational catch and pitch an outstanding game.
Gallegos, now 82 and living in Miami, shined on baseball diamonds in the U.S. and in Cuba. For her brilliance on the field, Gallegos has earned a place in Cooperstown with other baseball immortals.
Last month, Gallegos and other female baseball stars from Cuba were honored by having their names and photos presented at a ceremony in New York.
Gallegos, born in Havana in 1929, began playing at age 12 with the boys at her neighborhood park. Her playground skills took her to Cubaneleco Club, managed by Alfonso Rodríguez.
"I played with Almendares at the Cerro Stadium, at the university and in Regla," Gallegos said in an interview. "We also went on tour to towns and cities like Matanzas, Cienfuegos and Oriente."
Gallegos stepped up at a time when dozens of American players were joining the army during World War II, including luminaries like Ted Williams and Joe DiMaggio. Team owners started losing money, and to change their fortunes they created a new league — with women as the players.
In 1943, Phil Wrigley, owner of the Chicago Cubs, inaugurated the All American Girls Professional Baseball League.
With famous baseball players of the time working as managers to boost fans' interest, the stadiums began to fill. Some fans came out of curiosity, others to check out "the girls."
The women soon wowed the fans with their athletic prowess, and kept on playing until 1954, when the women's league shut down.
"Many men thought women could not play good baseball, but we proved them wrong," Gallegos said. "If stars emerged in sports like basketball, track and field, volleyball, swimming and tennis, it could also happen in baseball. Women's baseball should expand throughout the world."
The Cuba-U.S. connection also played out in Havana. In 1947, the Brooklyn Dodgers and Jackie Robinson trained in the Cuban city. Accompanying them were 150 players from the U.S. women's league who played in four exhibition games.
From this exchange, the Latin American Baseball Female League was born.
"Alfonsito Rodríguez, entrepreneur Rafael León and U.S. team manager Max Carey formed two teams, one called the Cubans and the other called the Americans. We played in Venezuela, Puerto Rico, Nicaragua and Costa Rica", Gallegos recalls. "A year later, a few of us Cuban players received an invitation to the league's training camps."
Among the Cuban players who signed contracts in the professional league were Luisa Gallegos, Mirta Marrero, Migdalia Pérez, Gloria Ruiz and Georgina Ríos. In 1949, Isora del Castillo and Isabel Alvarez were added. Another quality player was Eulalia "Viyaya" González, who played with men in the Plaza del Vapor in Havana, but she never wanted to play in the United States.
The names of those players and their photos were presented by Leslie Heaphy, history professor at Kent State University, during the Cuban Baseball Congress held on Aug. 20 at Fordham University in New York.
Here is how Gallegos remembers her days on the diamond:
"We signed our contracts in 1948 in Havana and we traveled to Miami, where the training camp was located. Four of us stayed; Georgina went back to Cuba The contract was for $55 a week plus $14 for meals. It was good money at that time and we were able to rent a room at a house and provide for all our needs.
"The game calendar was similar to that of the Major Leagues. Women played between 110 and 120 games every season, six days a week. We traveled by bus. Uniforms were a normal skirt with shorts underneath, a shirt with the name of the team, a long-sleeve sweatshirt, high socks and spike shoes like the men's.
"My debut was at third base batting leadoff with the Peoria Redwings of Illinois. I was later traded to South Bend, in Indiana. I was good at defense, was very fast running the bases and my arm was powerful I went to Cuba in the off-seasons. The American players who most impressed me were Senaida White and Dorothy Kamenshek."
Gallegos has a lot of stories to share.
"In a game, an umpire named Brown called a strike on me that was clearly a ball. I protested and said: 'You should wear glasses; you're wrong.' I dug up some dirt with my spikes and he reprimanded me. The following day a Puerto Rican reporter wrote a newspaper story asking, 'What would have happened if Gallegos had assaulted Brown?' "
The Hall of Fame in Cooperstown, N.Y., has a permanent exhibit honoring the teams and the best women players in the league. There are six Cuban women in the group: third-base Luisa Gallegos, shortstop Isora del Castillo, outfielder Gloria Ruiz, second-base Migdalia Pérez and pitchers Isabel Alvarez and Mirtha Marrero.
Another tribute to the women came in 1992 with the movie A League of Their Own, featuring Tom Hanks, Geena Davis and Madonna.
Luisa Gallegos is 82 years old and lives in Miami with her sisters Orlidia and Gloria. She also has a brother, Raúl. During a recent visit to her home, she put on a cap, grabbed a glove and bat, and looked like she was ready to hit the field.
"I still close my eyes and see myself playing third base," Gallegos said.
"We played with the same passion, or even more, than the men. Those were the best years of my life."
---