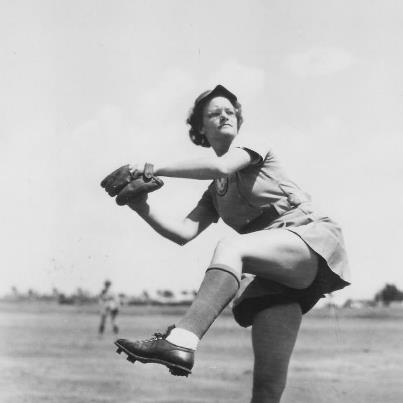 "Doris "Sammye" Sams' National Women's Baseball Hall of Fame Nomination Statement"
Doris Jane Sams, who played in the AAGPBL for the Muskegon Lassies, 1946-1949, and Kalamazoo Lassies, 1950-1953, was a well-recognized pitcher, fielder, and batter in the league; and because of her accomplishments she [was] recommended for 2012 induction into the NWB Hall of Fame. Although selections by the National Committee traditionally occur annually in October, nominations may be received anytime during the year.
Sams was born in Knoxville, February 2, 1927 and passed away June 28, 2012 at the age 85 in her hometown. After her baseball playing days concluded in the 1950s, she returned to Knoxville and found an administrative position with a utility company.
Among Sams' accomplishments were: pitching a perfect game onAugust 18, 1947, hitting a league season record of 12 home runs in 1952, and maintaining a .300 batting average with Kalamazoo. She was chosen AAGPBL Player of the Year in 1947 and 1949, and appeared in 5 league All-Star Games. Her 2,485 career at-bats yielded a lifetime total of 22 homeruns, 286 RBIs, and a .290 average which was 6th overall in the league.
"Sams' achievements among her league contemporaries certainly deserves consideration for national recognition represented by this new nomination," said Jaffeson with the NWB Hall of Fame ."Besides field performance, she was nominated and selected for 5 All-Star games during an 8 year career."
The All-American Girls Professional Baseball League (AAGPBL)operated from 1943-1954 consisting of several teams locatedprimarily in small towns within the midwest, e.g., Muskegon,Kalamazoo, Racine, Kenosha, Peoria, Rockford, Grand Rapids,South Bend, and Battle Creek.
The AAGPBL began in 1943 with four teams, Rockford Peaches,South Bend Blue Sox, Racine Belles, and Kenosha Comets; an dwas initially financed by Philip K. Wrigley of crewing gum and Chicago Cubs fame. Each franchise received a start-upstipend of $45,000, and he provided $100,000 for the league central office. However, after two seasons, Wrigley sold his interests while annually losing $100,000 on the project. After the 1944 season finished, the league was purchased by Arthur Meyerhoff for a mere $10,000, and consisted of six franchises adding for the 1945 season the Grand Rapids Chicks and Fort Wayne Daisies. Sams played exclusively under the Meyerhoff regime.
The 1992 film on this theme serves as a classic representation on how false images may substitute for reality. Baseball is based upon actual accomplishments on the field, such as Sams', and deliberate fictitious accounts perpetuate a disservice to the players, coaches, and the game; and are a disappointment once discovered. It remains unanswered, What was the purpose of presenting such inaccuracies?
The AAGPBL as correctly portrayed, featured underhand pitching from 1943-1946, and switched to sidearm in 1947, and overhand for the 1948-1954 seasons. Ball size started at 12" in 1943, changed to 11" in 1944-1947, was 10" 1948-1953, and 9" in 1954.
Basepath distances also varied beginning with 65' in 1943,68' during 1944-1945, 72' from 1946-1952, 75' in 1953, and finally 85' in 1954. Correspondingly, the pitching distances (rubber to homeplate) were proportionally reduced. Although often modified over several seasons, the fields never reached regulation dimensions, and initially the game was more akin to softball than baseball. Many AAGPBL recruits were found on community and corporate softball teams, as was Sams.
In addition, all players initially received training on proper conduct with a finishing course and manual which was prepared and presented by Helena Rubinstein. Chaperones were assigned to every team to ensure that high standards were maintained.
In remembrance, along with other locations, an AAGPBL exhibi tis found within facilities at Cooperstown. By comparison when sometimes asked, it is mentioned that venue consists of two components, Hall of Fame for MLB players, and baseball museum.Induction into the former at a minimum requires 10 years of playing experience on major league teams with performance at exceptional levels. As for the latter activity, there are hundreds of specialized baseball museums across the country.
Sams once commented to the press regarding the museum's AAGPBL exhibit, "I look over to the right and see Babe Ruth. I lookover on the left and see Ted Williams," she humbly observed."Then I look to the mirror and say, 'What are you doing here? 'It's all so unbelievable. I never dreamed our league would get this kind of recognition." Her view was entirely correct.
---