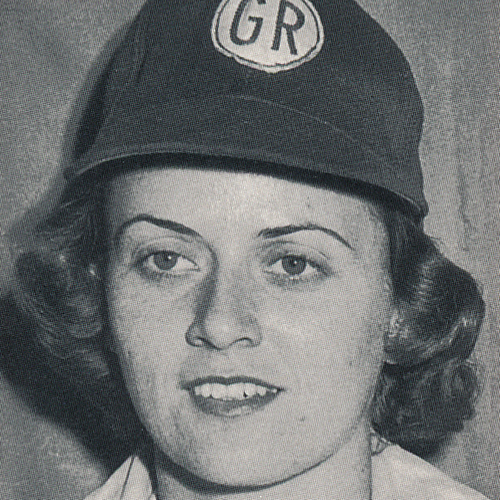 When Helen "Gig" Smith, of Richmond, Virginia, recalls her ballplaying experiences from the 1930s and 1940s, she prefers to explain about the All-American Girls Professional Baseball League, commonly called the All-American or the AAGPBL.
"When Mr. Philip Wrigley created the All-American Girls League in 1943, he wanted the girls to conduct themselves as ladies at all times, but to play like men," Smith told me.
"The 1992 movie A League of Their Own had a little of Hollywood in it, because you know if the manager had come into our locker room and urinated for fifteen minutes, we would have thrown him out bodily."
"Still, the movie was basically on target. I don't know why the creator, Penny Marshall, did everything the way she did, like switching the positions and the facts about some players."
"I'll give you one 'for instance.' The two sisters were not from the West. They were from Canada. The way this whole movie thing got started was that Marge and Helen Callaghan were the two sisters. In real life Helen Callaghan had five sons, and one of her sons, Casey Candaele, played for the Houston Astros."
"Helen had another son who was a documentary specialist. He told his mother that her life and experiences in this league would make an excellent documentary. So he made a documentary. While it was being shown on PBS, Penny Marshall happened to see it. She said, 'I think this would make a marvelous movie.' "
"When we were recognized in Cooperstown in 1988 for the new display on Women in Baseball, Penny came and interviewed a number of players. She got a lot of the ideas for the movie from those interviews."
"So a lot of the movie is factual. But to appeal to people of all ages, Hollywood threw in some of these little things. For instance, Pat Keagle, our blond center fielder with the Grand Rapids Chicks in 1948, had a bratty, red-haired son who annoyed us to no end--something like the boy in the movie."
Reflecting on the AAGPBL's origins, Gig explained, "When Mr. Wrigley started this league, he thought that the big leagues were going to fold during World War II. He called in an assistant and said, `I want you to dream up something to keep baseball alive.' "
"A couple of days later, his assistant came back and said, `Why don't you start a girl's league and he did."
Helen, who remains enthusiastic about the All-American League, was born on January 5, 1922, the youngest daughter of Walter and Mary Smith. Along with her brother Hugh and her sister Elizabeth, Helen grew up in Richmond. She loved sports, and she had the talent, attitude, and determination to make virtually any ball team.
Upon graduation from Richmond's John Marshall High in 1940, Smith was voted the school's outstanding girl athlete. She lettered in all four sports available to females: field hockey, basketball (she stood 5'5"), track, and tennis--and she won the city's doubles tennis championship.
Soon the attractive brunette got a job in the photo-finishing department for Thalheimer's Department Store. She worked three years, all the while building a reputation as one of the top fast-pitch softball players in the area.
A right-handed batting third baseman who had power, Smith starred on five amateur clubs which won the state championship. Her 1940 team became the first from Richmond to make it to the national finals. Usually her team's clean-up hitter, she averaged a home run per game during her last two seasons.
As a result of her outstanding record, Smith was inducted into the National Softball Hall of Fame in 1975.
But on December 7, 1941, which President Franklin Roosevelt immortalized as the "date which will live in infamy," Japanese forces bombed and devastated Pearl Harbor. One day later Congress, following FDR's lead, declared war on the Empire of Japan. Within four days the U.S. had declared war on Nazi Germany, Japan's European ally.
During four years of war, 16 million young men and women served in the United States armed forces. When the war ended in September 1945, more than 300,000 Americans had died in combat and roughly 700,000 were wounded in the Pacific and the European Theaters.
In early 1943, when the All-American League was organized, Smith was offered a contract to go to the league's spring training in Chicago.
"I turned down the offer," she recalled. "I figured, `I'm getting too old for professional ball.' That made my mother happy, because she didn't want me to play. But it made my father unhappy, because he wanted me to keep playing."
Following the example of her brother, who had joined the Navy, Helen joined the Women's Army Corps (WAC). She was dubbed "Gig" (government-issued-gripe) the first day, and her nickname stuck.
After several weeks at the Fort Oglethorpe Training Center in Georgia, Gig was assigned to the WAC's Art Department. She handled jobs such as making training aids for classes of new recruits and doing illustrations for the WAC newspaper.
But the services also emphasized sports as a morale booster, and Smith was recruited to play fast-pitch softball for an Army women's team at the Fort Oglethorpe.
"Nobody else was stupid enough to catch," Gig recollected, "so I had to do it." Her team made it to a state tournament, where she remembers blasting two grand slam homers.
In 1944 she was transferred to Army Military Intelligence at the Pentagon. She worked on top secret cartography related to the war effort against Japan, earning a promotion to Tech Sergeant.
After being mustered out of the WACs in the fall of 1945, Smith moved to New York City and attended classes at the Pratt Institute of Art. She planned to earn a degree and become a professional artist. Gig liked to draw portraits and illustrations, and she enjoyed photography.
By the spring of 1947, however, Smith was running out of money. Thinking over her softball experiences, she called the scout whom she had met in 1943 and asked if the contract was still available. He sent one, and she signed up.
The All-American flew her to Chicago to meet Max Carey, the league's president. Later, she flew to Kenosha, Wisconsin, and spent the remainder of the summer with the Comets.
In 1947 the league allowed pitchers to use a sidearm or underhand delivery, a shift which began in the 1946 season. But in 1948 the AAGPBL switched to overhand pitching, which made the game close to regulation baseball.
At Kenosha in 1947, Smith was asked to be an outfielder, a position she had never played. Since the lineup was already established, she remained a reserve. The Richmond native did get into five games, batting eight times and rapping one single.
Gig arrived at the peak of the AAGPBL's life. In 1948 a record ten teams competed in a 120-game regular season. Teams in the West Division finished in this order: the Racine Belles, the Rockford Peaches, the Peoria Redwings, the Kenosha Comets, and the Chicago Colleens.
The East Division was topped by the Grand Rapids Chicks, followed by the Fort Wayne Daisies, the South Bend Blue Sox, the Muskegon Lassies, and the Springfield Sallies--with the Colleens and Sallies being short-lived expansion clubs.
At spring training in Opa-Locka, Florida, in 1948, Smith, now twenty-six, was allocated to powerful Grand Rapids. "After we finished training," she recalled, "we had an exciting plane trip to Cuba in a bad storm! We played several exciting exhibition games in Cuba before thousands of exuberant fans who loved baseball. They also loved the blond American girls! It was quite a memorable trip for me, one of the highlights of the 1948 season."
Smith spent her only full season with Grand Rapids. Again a backup flychaser, she often played the outfield when Connie Wisniewski pitched.
The Richmond native played 22 games and picked up 10 hits in 52 at-bats. Her .192 average included two doubles and two RBI. Also, she drew six walks, fanned six times, laid down three sacrifice bunts, and stole two bases--an experience which she remembers as painful!
"I was lucky to play at all that year," Smith said, "because Grand Rapids was a championship team. That season we had ten teams in four different states around Lake Michigan. We had our own stadium, we had our home and road uniforms, and we traveled around in those awful, old buses, which were not air-conditioned!
"If the Chicks had a series in Grand Rapids and had to play the next day in Racine, Wisconsin, we would be on that bus all night and get maybe two or three hours of sleep. It was exciting, but it was a hard life on those road trips."
She earned $55 a week for her efforts, not counting the meal money on road trips.
In the end, Grand Rapids lost the final round of Shaughnessy Playoffs to Racine in three straight games. One reason for the Chicks' surprising loss was a shocking injury suffered by Pat Keagle, who slid into second base and broke her ankle.
"I'll never forget that injury to Pat Keagle," Gig said, wincing at the thought. "She slid into second and came up screaming, with her foot dangling from her leg."
By then Smith had learned that her mother had a long-term illness. Transferring from Pratt, she returned to Richmond to complete her education and help take care of her mother.
In 1950 she graduated from what is now Virginia Commonwealth University with a Bachelor of Fine Arts. That fall she began teaching for the Richmond School System. She taught classes in Art and Shop for over 30 years, retiring in 1982.
Coincidentally, the All-Americans held their first-ever reunion of former players the year Smith retired. She loved it, enjoying the camaraderie of old teammates and new friends. She has been an excellent spokesperson for the league ever since.
At card shows which she attends as a signing guest two or three times a year, Smith tells visitors, young and old alike, that she was never a star. Instead, Gig (as she likes to be called) loves to talk about some of the league's fine players, including:
Jean (Faut) Eastman, the AAGPBL Player of the Year in 1951 and 1953--"The best overhand pitcher in the league's history," Smith explained--Jean compiled an eight-year record of 140-64 with a 1.23 ERA. Also, she hurled two perfect games (1951 and 1953) and two more no-hitters, while leading her South Bend club to Shaughnessy Playoff Championships in 1951 and 1952.
Dottie Kamenshek, the league's best first baseman--"The best I've ever seen, man or woman," says Gig--who won batting championships in the "deadball" years of 1946 (.316) and 1947 (.306). Playing nine seasons with the Rockford Peaches, Kamenshek was a perennial All-Star and finished with a lifetime .292 average
Betsy Jochum, one of the league's top outfielders for South Bend from 1943 to 1948. Betsy led the league in hitting in 1944 with a .296 average. A fine fielder with an excellent arm and good speed (she averaged 60 stolen bases a year), she was converted to pitching in 1948 and won 14 games. The ultimate team player, her fine all-around performances were appreciated by teammates and the fans.
Doris Sams, the side-arm pitcher and hard-hitting outfielder from Tennessee who was voted Player of the Year in 1947 and 1949. For example, in 1949 "Sammie," a very versatile athlete, posted a 15-10 record with a 1.58 ERA in 211 innings, plus she averaged .279 in 406 at-bats

Smith also served as an area representative for the project to recognize Women in Military Service for America. The memorial was built at the entrance to the Arlington National Cemetery and dedicated on October 18, 1997.
In order for the memorial to have records which are as complete as possible, Gig encourages all women who served in the armed forces to contact: Memorial Foundation, Dept. 560, Washington, DC 20042-0560.
During my AAGPBL research, I discovered that the league had two players named Helen Smith. The "other" Helen was an outfielder for Rockford in 1946, while Gig Smith played in 1947 and 1948. Apparently the confusion over names caused the Virginian to be shifted to the outfield with Kenosha in 1947.
Despite her limited AAGPBL career, Gig was an outstanding athlete. On July 11, 1999, the Richmond Times-Dispatch selected the top ten Virginia athletes of the 20th century, and she was listed as honorable mention.
"I never knew Gig Smith when she played in the league in 1947 and 1948," Jean Eastman told me, "because we were on different teams. I met her at a reunion, and we have been friends ever since. She's a fine person.
"But Gig never had a chance to establish herself. If she had joined the league in 1943, when they were actually playing a modified fast-pitch softball, she might have been a great one."
Like Helen "Gig" Smith, the young women who played in the All-American League were pioneers in sport, even though they could scarcely realize it at the time. They played exciting, colorful, fast-paced hardball. Equally important, those women got the opportunity to live the baseball dream--an aspiration limited to young men before 1943.
---