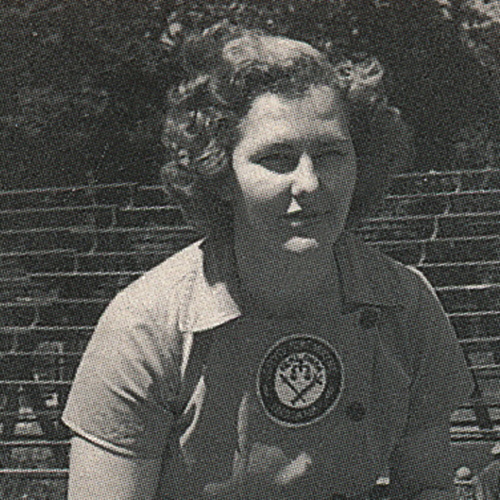 Canadian AAGPBL Pitching Star Audrey Haine Daniels passes away at 94

By Kevin Glew
Cooperstowners in Canada
Audrey Haine Daniels, who emerged from the sandlots of Winnipeg, Man., to throw multiple no-hitters in the All-American Girls Professional Baseball League (AAGPBL), passed away on Saturday at the age of 94.
News of her death was shared with me by Andrew Jenkins of Jenkins Funeral Chapel in Westlake, Ohio on Wednesday. She was one of 68 Canadian women inducted into the Canadian Baseball Hall of Fame in St. Marys, Ont., in 1998.
Haine Daniels passed away in North Ridgeville, Ohio, where she had been living in a care facility.
Born in Winnipeg, Man., on May 9, 1927, she was the youngest of seven children. A multi-sports star in high school, she particularly excelled in volleyball and softball. Her obituary notes that she honed her skills by playing baseball with the boys on the streets of Winnipeg.
She started in organized softball with the St. Anthony Brown Bombers of the Winnipeg Catholic League. As a 16-year-old, she cracked the roster of the St. Vital Tigerettes of the Greater Winnipeg Senior Girls Softball League and propelled them to a championship. The 5-foot-9 right-hander was so dominant that on multiple occasions, she struck out 21 batters in a seven-inning game.
Not surprisingly, her talents were soon brought to the attention of scouts of the fledgling All-American Girls Professional Baseball League (AAGPBL) in the U.S. With so many men serving in the Second World War, Chicago Cubs owner Philip Wrigley feared baseball would be forgotten in the early '40s. So to maintain interest in the sport, he dispatched scouts across North America to find the best female players to compete in what would become the AAGPBL. Enticed with salaries ranging from $55 to $150 per week, the initial group of women would form four teams – the Rockford Peaches, Racine Belles, Kenosha Comets and South Bend Blue Sox – for the league's inaugural campaign in 1943.
It was after that first AAGPBL season that Daniels was convinced to sign.
"A girl (from Manitoba) had been signed the year before and I guess she told (scouts) about me," Daniels told Cleveland.com in 2010 about agreeing to join the AAGPBL. "Before you know it, I was on a train to Chicago with other girls from Manitoba and Saskatchewan. I was scared stiff. I'd never been far from home or to a restaurant or a hotel."
She was assigned to the expansion Minneapolis Milleretes for her rookie season, where she would hurl a career-high 230 innings, but was rewarded with just eight wins for the lowly club that finished 45-72 and 26-1/2 games out of first place. She did, however, throw a no-hitter against the Kenosha Comets on August 26.
The following season, she toed the rubber for the Fort Wayne Daisies and enjoyed her best campaign. Playing with fellow Canucks Marge and Helen Callaghan, the right-handed sidearmer, whose arsenal included a rising fastball and a nasty curve, went 16-10 with a 2.46 ERA in 223 innings in 32 games. She also tossed her second AAGPBL no-hitter on June 15 of that campaign. You could also say that she was effectively wild; she had 156 walks that season.
"I wasn't a top player (in the league), but close to it," she told Cleveland.com in 2010. "I had (hitters) pretty on edge."
She remained with the Daisies until the middle of 1946 when she was dealt to the Grand Rapids Chicks. She finished 1946 with a combined 14 wins. Though best known for her golden arm, she enjoyed her finest AAGPBL season at the plate in 1947 when she batted .275 with eight runs and five RBIs in 25 games.
She landed with the Peoria Redwings in 1948 and notched a career-best 17 wins and posted a 2.92 ERA in 228 innings in 33 contests. Following that season, she returned to Winnipeg to marry her high school sweetheart Bud Daniels.
The couple would start a family and she took some time away from the AAGPBL before returning to toe the rubber for the Rockford Peaches in 1951. She only pitched in home games that season and finished with a 4-3 record and a 3.82 ERA in 10 appearances before retiring for good.
She completed her AAGPBL career with 72 wins and a 3.48 ERA in parts of six seasons.
She and her husband would raise six children and eventually settle in Cleveland, Ohio where she continued to love to talk about her time in the AAGPBL.
"I just think about how fortunate I was to be a part of that," she told Cleveland.com in 2010. "It was some of the best times of my life."
Haine Daniels had a bit part in the much revered 1988 movie "A League of Their Own" about the AAGPBL and regularly reminisced about her time in the circuit at speaking engagements.
For his efforts on the diamond, she was inducted into the Canadian Baseball Hall of Fame in 1998 and the Manitoba Sports Hall of Fame in 2009.
But it's clear from her obituary that it was her family that she loved and cherished the most. She was a much loved wife, mother and grandmother.
"Mom was a true angel that lived on this earth for 94 years, 4 months and 2 days, and we are forever grateful to the Lord to have blessed our family with such a caring, wonderful mother — a beautiful person in every way, a true saint," reads a portion of her obituary.
She is survived by her husband, Bud, and children: Craig Daniels (Kathy), Cheryl Sebjenics, Kathy Appold (Jonn), Scott Daniels, and Doug Daniels (Elisha) and grandchildren: Philip, Joey, Patrick, Kathryn, Ian, Michael, Evan and Audra.
Posted bycooperstownersincanadaSeptember 15, 2021
---